About Us
Bundschuh Landscape Center offers a unique full range of consulting service, design and landscape construction.
From the first call, through on-site inspection and consultation, to completion of the finished landscape project…we make landscaping easy.
Let us simplify and solve your landscaping problems and transform your vision into reality. We will work step-by-step with you , tailoring projects to your budget.
We invite you to join us in every phase of the work, from the design to the selection of your plants and trees at our nursery and garden center. Whether you're planning an entire landscape, or simply a weekend "do-it-yourself" project, Bundschuh's Nursery and Garden Center offers acres of flowering shrubs and evergreen, ornamental and shade trees, and other plants. We invite you to visit our Garden Center and acquaint yourself with all our nursery and garden services.
The Bundschuh Tradition
Bundschuh Landscape Center was first established when Carl R. Bundschuh began plowing Victory Gardens for friends and neighbors during World War II.
John Bundschuh then joined his father, Carl, at the Center with a Bachelor of Science Degree in Ornamental Horticulture from Michigan State University. Under John's direction, Bundschuh's has become an award winning landscape design firm.
Adrian Bundschuh, the third generation now at Bundschuh Landscaping, will continue the tradition with a Bachelors Degree in Mechanical Engineering from Western Michigan University.
Award Winning Design
Bundschuh Landscaping has been honored with the Michigan Nurserymen Association Award for excellence in Landscape Design.
R. J. Ahlt, Executive Vice President of the Michigan Association of Nurserymen, M.A.N. (currently known as Michigan Nursery and Landscape Association, M.N.L.A.) referred to Bundschuh's landscaping design entry as "the best of the best."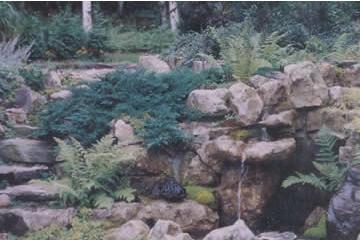 The award illustrates why
Bundschuhs' has been satisfying customers for over 65 years, and why a residential landscape design for a home featured in "1001 HOME IDEAS." was chosen.